This right here, folks, is my new favorite snack or quick and easy meal. And it takes five minutes to make.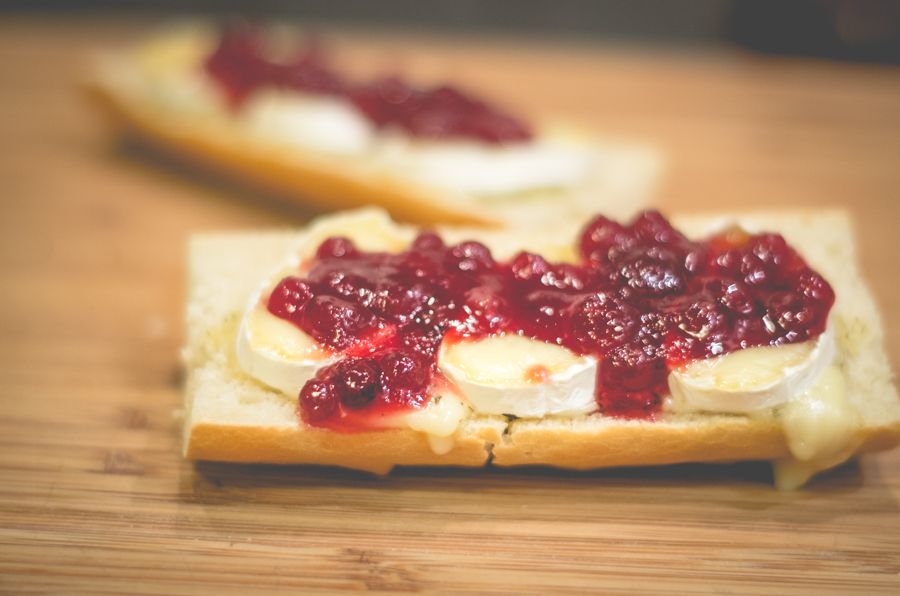 The longest part is waiting for the cheese to melt. But, oh, once it does....
I don't know which is my favorite part - the fresh baked baguette, the garlic butter, or the ooey-gooey Camembert. All over France, Camembert is known as the King of Cheese, or roi du fromage if you prefer. I have no idea why, but that's what I've been told by several people now.
I tried to Google it to find out, but all I learned is that it is a very popular cheese made in France, the most notable selections hail from the Normandy region, learning to select a good Camembert requires an education in cheese (I just buy one at the market and I'm perfectly happy), most foreigners love it nearly as much as the French people do, and it should have a mild cheesy smell. If it smells too strongly, it is either not fresh or ill prepared.
I love all of the stinky cheeses so I'm not sure how strongly it would have to smell to turn me away. I do think it's a rather mild cheese in general, similar to Brie in both consistency and flavor palette. I think it would do well at a party; I can't imagine it offending anyone.
How To Make It
TWO | Butter that bread with a good garlic & herb butter.
THREE | Lay slices of Camembert on top of the butter. If you get the cheese that is more tube shaped (vs. the round kind you would bake whole), slicing it is easier. If you have a really ripe cheese, it may already be too soft to slice. In that case, just slather it on.
FOUR | Warm your toast in the oven until the cheese is melted. I usually turn my oven on, put the toast in, and let it warm up with the oven. Roughly 5-8 minutes is all it takes.
FIVE | This step is optional, but I think it is important: Drizzle the toast with something like a wild berry compote. Whatever you have on hand or see at the store will do. Cranberry sauce would be a good substitution, too. (Hey, hey, Thanksgiving leftovers!) The key is to choose a jam with a bit of a bite, not too sweet.
SIX | Eat it while it's warm. It's good once it's cooled off, too, but it's really delicious hot from the oven.
So simple even a kid could do it. And so yummy I never want to stop eating it.
All the warnings: There is nothing healthy about this recipe. If you have health concerns that require you to stay away from bread, gluten, dairy, or sugar... well, this recipe is not for you. I am not responsible for any changes in dress size you may experience once you become addicted to this deliciousness. ;)

Have a good weekend, everyone! And remember, sharing is caring!