I love both markets (and cities) that much.
That said, I think Nuremberg is probably the more impressive market. The city itself is awesome to visit at any time of year. It's an old walled medieval city and a lot of it is still intact. (And of course there's tons of not-so-ancient history here, too.) It's just breathtakingly beautiful.
Within the area around the main Christmas Market there were several large churches. The one in the picture above has a balcony you can go out on for a donation of a euro or two. We arrived too late to do that but if I can find some way to make it back there this year, I really want to do it. I'd love to see the market from above.
As you can see, we had really terrible weather. By the end of the evening, it was pouring rain, we were all soaked and frozen to the core. This was the year my sister and her boyfriend came to visit and I felt so bad for dragging them around in the cold, dreary, wet German countryside (they live in Texas - they were really cold) but as the Germans say,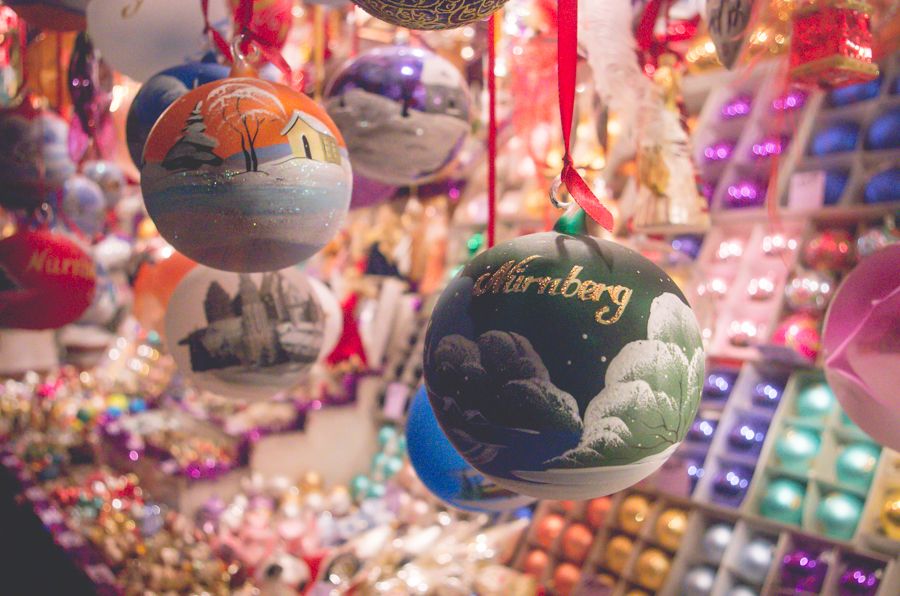 I think the main draw of this Christmas Market, besides the awesome architecture and old world feel, would be the variety of ornaments and home decor. They had some of the most beautiful Christmas decor I've ever seen anywhere.
They also had carolers in full dress as well as many different period actors. There were poets and jesters and all sorts of fun characters to help you find your Christmas Cheer -
if you need any help in that department.
If you decide to check it out, it's a pretty easy drive since Nuremberg is just off the A6 and the A3. Getting around the city is a little hectic (but not too bad), but there is lots of convenient parking once you get near the walled city. We parked in a garage only about a block from the market - it doesn't get better than that!
If you've been or are planning to go, let me know in the comments below. I love to hear other people's stories and adventures!