I love Paris in the Springtime...
I love Paris in the Fall...
But, really, I love Paris at Christmastime most of all!
I know that's not how the song goes, and I'm not even sure when my favorite season in Paris is - they're all pretty great.
I mean, for realz, any day I can stroll past this is a good day indeed:


I just love this city and will take every opportunity to go back. A couple of years ago just before Christmas, my husband flew to California for training so a couple of friends and I hopped on a train and went to Paris for the day.
It's a tough life, right? Living a 2 hour train ride from one of the most beautiful cities in the world.... I am going to miss that So.Very.Much. Words can't even describe it.
Moving on, before I start feeling too sorry for myself.
I was really excited about Christmas in Paris, imagining a very different reality from what we actually experienced. If you're planning to go, I recommend waiting until just before Christmas or even the week after Christmas.
Hotels might cost a little more then (but, hey, hotels are never cheap in Paris), but more of the markets will be open. We went on December 11 and a few stalls were open, but most of them were just being built. Later I learned that most of the city celebrates the Christmas season starting about a week before Christmas and lasting through the 12 Days of Christmas (January 6). So that's something to keep in mind. I wish I'd known.
While I was there, the markets that were open were along Champs Elysees between the Franklin D. Roosevelt and Clemenceau metro stops. Which is super convenient, because from Clemenceau you can walk towards Invalides (or do it backwards, depending on your starting point) and enjoy the ever so romantic Pont Alexandre III.
It really is a gorgeous bridge and I read somewhere that it is one of the most romantic places in Paris to propose. I wouldn't know about that, but if you're in the area when the Eiffel Tower does its nightly dance, it's a gorgeous view from this bridge. Be sure to bundle up, though, and be prepared to snuggle with your honey because the wind from the river is quite cold.
The lights dance and sparkle every evening on the hour from 8 pm until 1 am. Each light show lasts about 5 minutes.
If you find yourself closer to the action, I like the view from the Jardin de Trocadero across the river from the tower, but many prefer the Champ de Mars right at it's base. No matter where you see it from, it is a magical experience you're not likely to forget.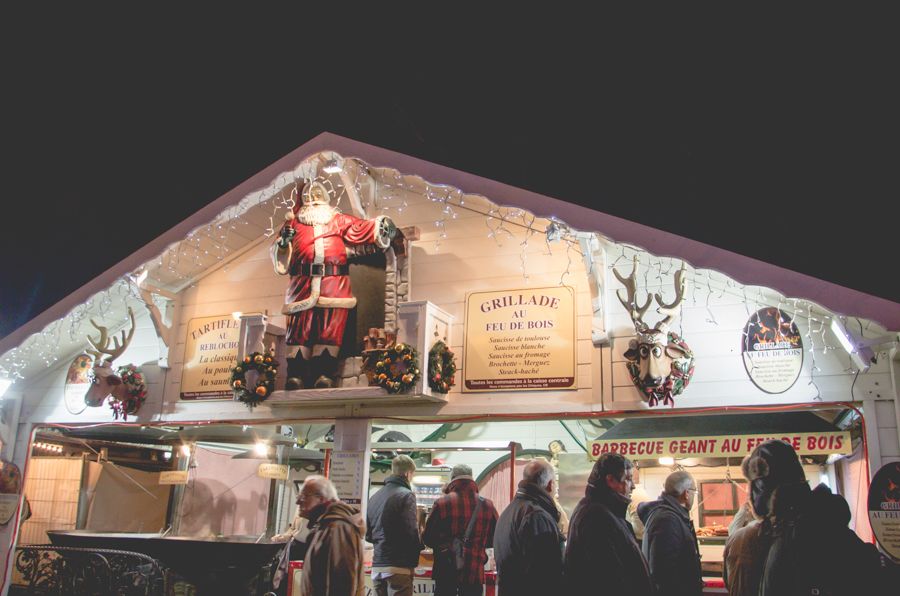 A lot of people have shared with me their dislike of "commercialized" Christmas Markets over the past few days. If that is a dislike you share, these markets on the Champs Elysees may not be for you. The ornaments were pretty, but obviously mass produced. It wasn't a problem for me and I bought several things while I was there. Of course, I have no idea what will be available around the city after the other markets open.
I would love to hear from you if you've been or are planning a trip. My husband actually wants to go back to Paris one more time before we leave. It's really strange to me because for our first trip there, many many moons ago, I really had to talk him into it. It's funny to me how much he likes it now. Paris won him over.
And if that's not a great endorsement for the city, I don't know what is. ;)